I often teach workshops, the details are listed below.
Please contact Blue Dog Glass directly to inquire about further details for example the equipment requirements, dates, costs and available places.
You are most welcome to contact me to ask questions, please email me at kathrynwardill@hotmail.com
Beginner Glass Beadmaking at Blue Dog Glass
Two Saturday course – 10am to 4pm
2018 dates coming shortly, please check back again.
Intermediate Glass Beadmaking at Blue Dog Glass
Sat 14 & 21 October – 10am to 4pm
Lost wax casting for jewellery at Blue Dog Glass
Thurs 7, 14 & 21 December – 6pm to 9pm
Beginner Jewellery Making at Blue Dog Glass
Thurs 16, 23 & 30 November – 6pm to 9pm
Blue Dog Glass Studio details:
Studio Hours – Wed to Fri 10am to 4pm, Sat 10 to 1pm
27 Wells Road, Mordialloc Victoria 3195 Australia
Phone 03 9580 7302
info@bluedogglass.com.au
http://www.bluedogglass.com.au/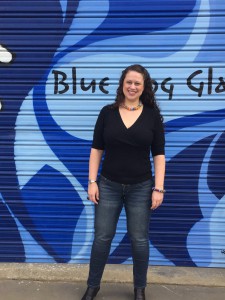 Student feedback: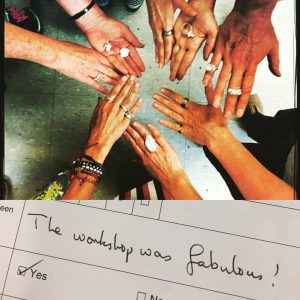 "After making glass beads under Kathryn's tutelage at Summer School for six years , I am continuing to learn and expand the possibilities of unique glass bead making with her encouragement I have made more beautiful beads than I could ever have imagined myself creating. I haven't finished learning yet. It is wonderful to wear beads that I enjoy, others enjoy and I know they are unique. Thank you Kathryn" from Meryl 2011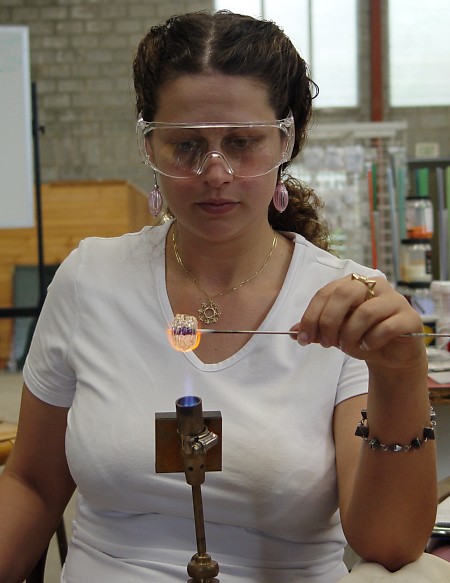 "I enrolled in a glass bead making class not knowing anything about the process. I would have to say I love it. Kathryn is a patient teacher who carefully demonstrates each skill we need to master and does beautiful work of her own. If I had time I would bead all day everyday." from June 2011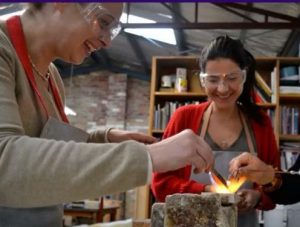 "Great subject, excellent course structure and fabulous TEACHER, what more can you ask for? Patience and confidence, Kathryn has both and passes them on in her classes." from Kris 2011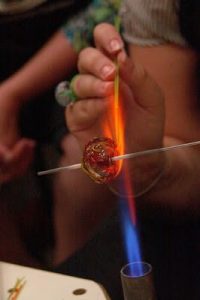 "Kathryn is an excellent teacher, her passion and enthusiasm for glass bead making help make her classes a 'must do' in my diary." from Mary 2011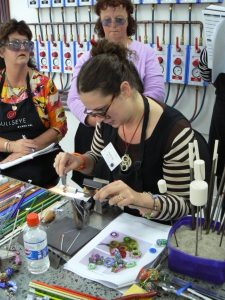 "Kathryn's class was interesting from the start, covered lots of techniques and was so uncomplicated it's encouraged me to try anything." Katherine 2011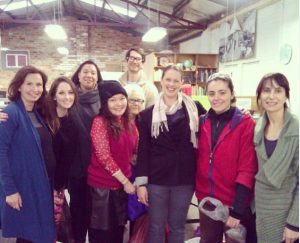 "In 2006 I attended Kathryn Wardill's Glass Bead Making workshop at McGregor Summer School. At the commencement of the workshop I had only a very slight knowledge of the method of Lampwork and limited experience working with glass. Upon completion of the two week workshop I had gained a strong understanding of the materials and techniques along with an insatiable appetite for Glass Bead Making!
In the years that have followed this workshop I have myself become a professional Glass Artist and have collaborated with and designed for some wonderfully talented people within the Jewellery industry. I am eternally grateful to Kathryn for her generosity and support as a teacher and continue to admire the unique application of her skill as both Glass Artist and Jeweller. Thanks Kathryn." From Brydie Jayne 2011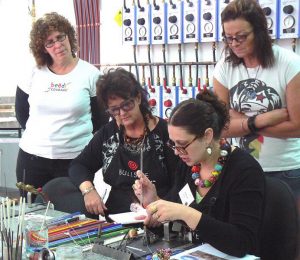 "Kathryn's class was packed full of instruction and the material learned in a weekend would have equaled 3 classes with another teacher. Kathryn dedicated time to each student and was endlessly patient as we bombarded her with questions! Thanks Kathryn for setting such a great lampwork foundation for me to learn from!" From Carli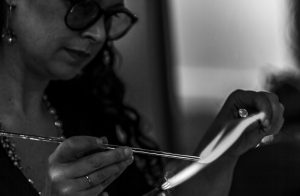 "My beginnings with glass were mostly self taught, leadlighting, glass fusing and bead making, I'd had very limited instruction, and really was struggling! Finally I made it to a Glass Bead Making class tutored by Kathryn at McGregor Summer School and everything fell into place. Kathryn teaches technical background and practical application, by the end of her classes all students are designing their own original glass beads! More than a year later I could not be happier with the professional instruction and personal attention that Katherine has given to me, I am really happy with the beads I make now and still refer back to the notes written in class time. I guarantee that if you consider taking one of Kathryn's classes you should do that class – you will always cherish the time you spent there, and especially the skills you will learn from her." From Sher McKain (Fine Art Student, QCA)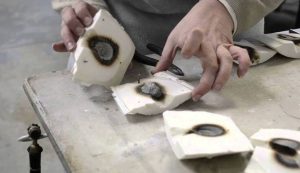 "What a wonderful 10 days of learning from Kathryn. As a self taught bead maker I can thoroughly recommend that a class with her will bring it altogether. She is patient, helps to fix your mistakes and encourages you to push your bead making to higher levels. Thank you Kathryn" From Carolyn 2011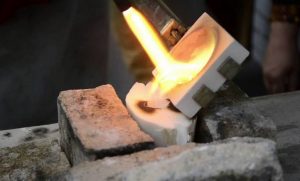 "I landed in one of Kathryn's lampwork week-long workshops out of curiosity in 2007 and have not looked back. I am inspired by Kathryn's knowledge of her art. During the workshop Kathryn skilfully and gently builds up your confidence and skill level, letting you find your style while watching you like a hawk – not only for your safety but for others around you. At the end of the week we were left with the skills and confidence to continue working with a hothead but also a collection of lampwork to be proud of. Personally this workshop unleashed a skill and passion that I did not know existed. I have since spent countless hours over the torch perfecting my own skills and developing new ones. This has lead to some fantastic commission opportunities for me as a textile artist. Thank you Kathryn for unleashing a spark that was clearly dormant until you introduced me to the hothead." With the Kindest Regards Sonja Hindrum
Class photos
Feedback forms