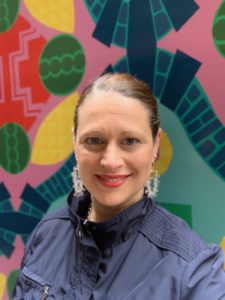 Kathryn Wardill is a Melbourne based contemporary jewellery artist and educator who received her Bachelor of Visual Art (Gold and Silversmithing) in 1994 from Griffith University, a Bachelor of Fine Art Honours (First Class) in 1995 from RMIT University, a Graduate Diploma of Tertiary Teaching & Learning in 1998 from RMIT University and Master of Arts, Fine Art by Research in 1998 from RMIT University. Wardill has actively participated in group and solo exhibitions, artist residencies and conference presentations internationally for the last 30 years.
Her research investigates new and innovative ways of combining two diverse materials, precious metal and glass. This on-going focused research for 30 years continuously has provided new material knowledge and possibilities in the context of a jewellery object-based practice. Through this research, Wardill creates artworks for exhibitions as one-off pieces, private and corporate commission pieces and also a range of limited production jewellery.
Wardill has had ten solo exhibitions and participated in over 100 invitational/juried exhibitions in the USA, Europe, Asia and Australia. Her work is in the collection of the Swiss National Museum and the National Art Glass Gallery, NSW and numerous private collections globally. As an educator, Wardill has been a casual academic BA Fine Art and an academic research assistant at RMIT University, a TAFE teacher for 13 year at Box Hill TAFE and has taught over 150 artist led workshops in metal and glass in Australia, New Zealand and the USA. Wardill has presented over 30 lectures/artist talks on her work and has had papers accepted to present at conferences in Australia, and the USA. Her work is published in over 70 books, catalogues and websites. Wardill has retail representation by Studio Ingot and online representation by Klimt02.
In 2022, Wardill celebrated 30 years of making!